So you want to start a sneaker collection, huh? Or maybe you just want a pair of kicks to add to your closet. With over 150 pairs of sneakers (and counting) your girl is here to help! My love for sneakers came long before I could walk (thanks, mom and dad), but once I started middle school I became OBSESSED. I remember working hard to keep my Reebok Classics crisp and spending Saturday mornings with my little brother cleaning the sneakers in our closet. Loving kicks became a way of life for us. A tradition, even.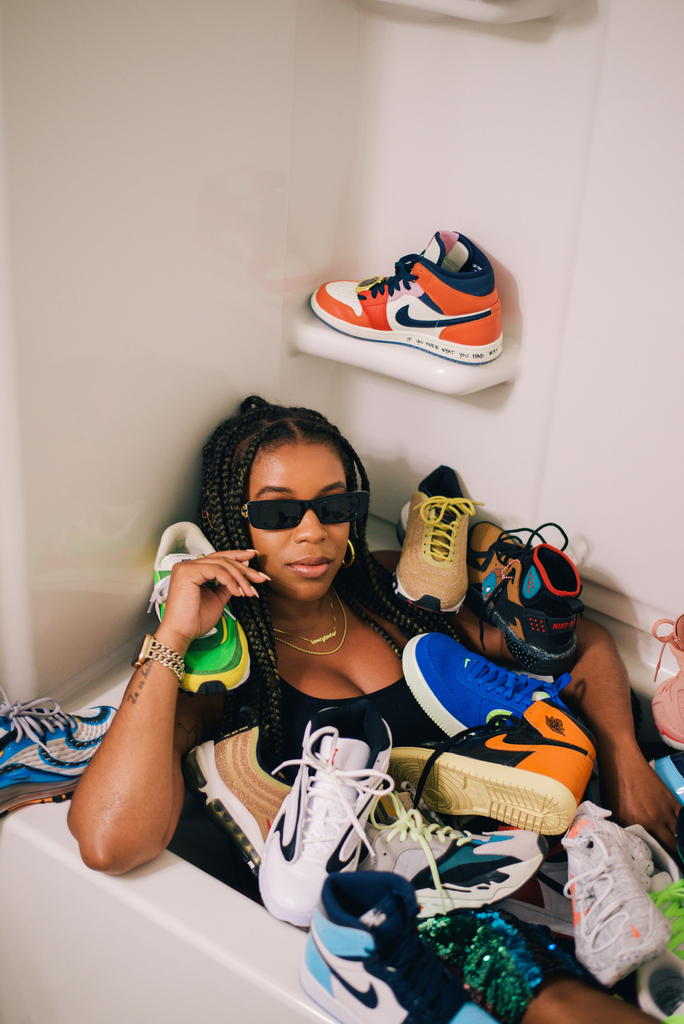 I enjoy rocking different silhouettes, from Jordan's and Air Force One's to Air Max and Yeezys. My closet is STOCKED with kicks. Of course I have a few pairs that I've donated, given away, or outgrown over the years, but they so easily get replaced when new sneakers drop.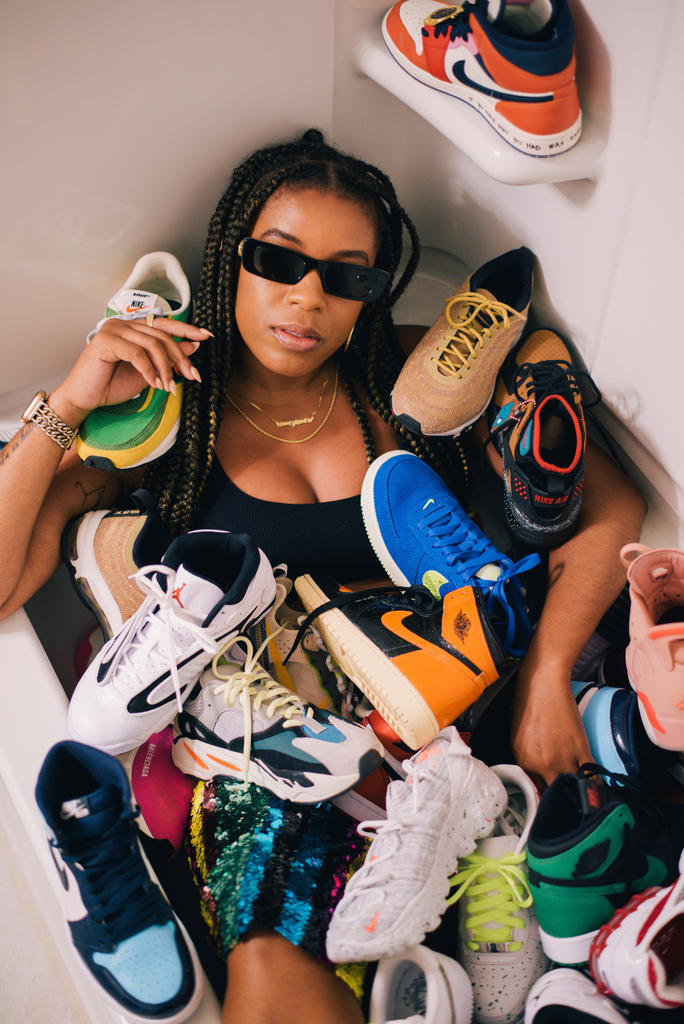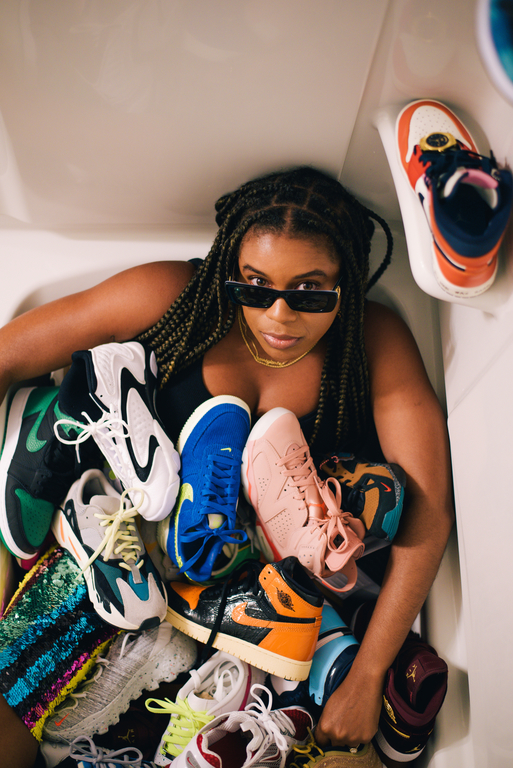 Okay, enough about me. Are you interested in starting your collection? I'm excited for you! After receiving messages through my Instagram and the Kicks & Fros page, I decided to put together a post sharing a few tips that'll help you get started! 
Find a Silhouette You Love 

When starting a collection, you first want to find your sneaker style (Shameless Plug: That's a service I offer…*wink*). Do you like high tops, or are you a low top sneaker type of person? Does a basic shoe or running shoe look good on your foot? Do you like color, or do you want to stick with a classic black and/or white? These are all great questions to ask yourself before buying sneakers, especially if you don't know what you really like. I don't need anyone from my Mob wasting their coins! 
Start Off Simple 
When starting your collection, you don't need the newest Jordan's or Air Max as your first pair. Start off with a fresh pair of all-white Air Force One's or a pair of shell toe adidas. Why? Because they're classic. I'm not exaggerating when I say they go with everything in your closet. You can wear either sneaker with a suit, a dress, sweats, you name it. You can also upgrade each season if you need a fresh new pair. 

Create a Sneaker Budget
 Listen, we save more than we spend, OK? That's always the motto. Create a sneaker budget and stick to it! If it's not in the budget for the month, pass on that pair. TRUST ME, YOU'LL FIND MORE. Don't let Sneaker FOMO get the best of your wallet.
Outlet Shopping Check out your local Nike and adidas outlets–you'd be surprised at what you may find. I've found some of my favorite pairs of Air Max, Jordan's, and adidas at the outlets for the LOW. Your pockets will thank you. 
Research 
Check out the sneaker apps to get new release drop dates, and go look around at your favorite boutiques to learn when they're getting certain pairs in. This will help you cop some of the more exclusive pairs you may have had your eye on. KICKTip: Download the SNKRS app now to stay up to date with what's releasing and when. You might even catch a familiar face over there.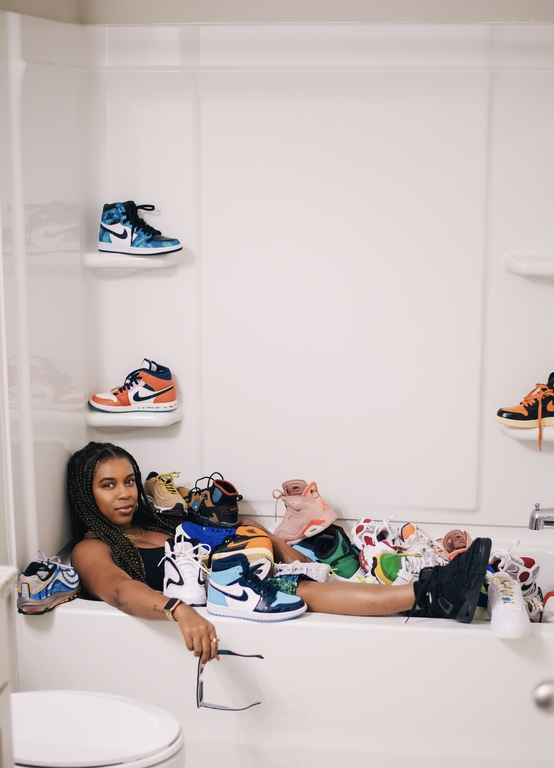 OKAY! Now that you've done all that, you're ready to grab some kicks. Here are 5 pair I suggest you start with: 

Air Force One's  The go-to sneaker that kicked off my sneaker collection. A pair of AF1's are closet staples. 
Jordan 1 Going, Going, GONE! Jordan 1's are super hot right now in the sneaker community. I love them because of the sleek silhouette. I can rock them with suits and sweats in the fall/winter months, or shorts and dresses in spring. I recently copped this pair thanks to my cousin. They're currently available now for resale on STOCKX, which is a resale app. Not educated on resale apps? No worries; I have a blog post for that, too. 

Shell Toe Adidas Another classic. My dad is obsessed with them and I think this is why they're a must-have for my closet and yours. They never go out of style and they're so versatile. Grab a pair, sis. I keep a white with black stripes and a black with white stripes in my closet at all times. 

Air Max 97's You can never go wrong with a pair of Air Max. They come in so many different styles now, but a pair that will always have a place in my heart and closet are the 97's. 
Puma Suede Classic Puma's are the pair that we'll end with. Another amazing sleek silhouette. Again, a classic; they'll never go out of style and you can always find them in any color you can think of. This reminds me–I need to reup. I had two pairs when living in NYC a few years back and wore them to death. Definitely a solid shoe to round out my Top 5. 
I really hope this helps you as you kick off your sneaker collection! Remember to start with a great classic that goes with everything, download the SNKRS app for new releases, check your local outlets, and budget. 

Happy Shopping! 

XOXO,
Melissa Chanel, CKO